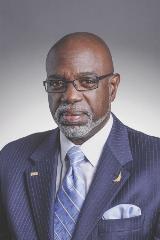 Risk professionals at all experience levels, from a wide variety of industries around the world continue to turn to RIMS for thought-leading content and resources.
The next generation of risk professionals is no different. We continue to see their interest in the profession grow. With a clear vision of what a career in risk management might look like, these aspiring executives not only have a plan but also access to the resources to reach their goals.
With RIMS 2018 Annual Conference & Exhibition just a few short weeks away, the Society continues to offer opportunities that support this passionate group of up-and-coming professionals.
Early numbers indicate a record number of student attendees headed to San Antonio for RIMS 2018. They continue to realize the value of the conference's educational programming and, perhaps more importantly, the face-to-face networking opportunities.
Included in that group of students are the 37 Anita Benedetti Student Involvement Program grant recipients. These exceptional students from around the world displayed immense progress in their risk management studies and a tangible passion for careers in this profession. Spencer and RIMS are also welcoming the final eight Risk Management Challenge teams to compete in San Antonio. Universities from the U.S., Canada, Singapore and China are hard at work, getting ready to present their risk management solutions in front of an esteemed panel of judges.
All RIMS members play an important role in the future of the Society, the profession and these students' risk management journeys. The RIMS Mentor Match resource will be unveiled at RIMS HQ in the Marketplace. RIMS staff will demonstrate the new Mentor Match platform that allows mentors and mentees to connect based on risk management specialties, preferences, experience and geography. There is nothing more rewarding than becoming a mentor. I encourage you to stop by RIMS HQ (booth 1337) and learn more about this new resource.
The support doesn't stop in San Antonio. Registration for RIMS NextGen Forum, scheduled for June 24 and 25 in Chicago, is now open. The Society has also opened registration to its first international event of the year – RIMS Latin America Forum, in Mexico City on May 7 and 8.
While I've highlighted some of the initiatives available to future risk professionals, RIMS Annual Conference offers something for everyone. I encourage you to check out all of the conference's educational programming, networking events, including some new Diversity & Inclusion sessions, and the hundreds of solutions providers joining us in the RIMS Marketplace.
The conference is always a great opportunity to share ideas and re-charge, to learn something new and then take it back home. We're looking forward to welcoming everyone to San Antonio. For those of you who will not be able to make it, you'll be able to tune in to parts of conference via our live-stream, read coverage in the Show Daily and watch videos on RIMS-TV all of which is available on the RIMS website.
As always, thank you for your support and stay tuned for more from RIMS.

Sincerely,

Robert Cartwright, Jr.
RIMS 2018 President