RIMS-CRMP Stories
Government Approval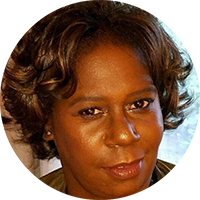 Dr. Karen Hardy built her risk management career working in the federal government of the United States. Now a strategic advisor, author and podcast host, she continued to build on her institutional knowledge by earning the RIMS-CRMP-FED.
RIMS: You have spent a large part of your career with the U.S. government. What influenced you to earn the RIMS-CRMP-FED credential?
Hardy: The federal government started to offer a high-end certification for an in-demand skill, which was a major development. So, it was an easy decision for me. And, as time goes on, the demand for public service professionals to earn the credential is increasing.
RIMS: How has the credential helped you in your career and now in your consulting role?
Hardy: Certifying your skillset is what sets you apart from others. It signals your level of competency, as well as commitment to an industry. I wanted to show other up-and-coming professionals that this was a path worth investing in, because it is all about what you bring to the marketplace regarding your expertise.
RIMS: How did your professional experience prepare you for the exam?
Hardy: I published a book on Enterprise Risk Management years prior to taking the exam. Compiling all that information afforded me the opportunity to absorb a lot of the knowledge needed to understand the concepts built into the exam. Leading the design and implementation of risk management frameworks within large, complex organizations also prepared me over the years. So, when it was time to take the exam, I was well-rounded in my field.
RIMS: What aspects of the RIMS-CRMP-FED do you find most helpful?
Hardy: Recognition is the most important aspect. It is a well-respected credential built upon rigorous standards acceptable across the world. These days you want to make sure you invest in something that has staying power in the market.
RIMS: Since you are an author, is it easy to imagine you opening a textbook to study. Is that accurate and/or did you also gravitate toward online studying?
Hardy: I did a little bit of both. But I have to say real-world experience and working in the trenches was a key factor. I am not a great test-taker—never have been. So, relying on a number of learning experiences was key.
RIMS: What tips do you have for anyone studying for the exam? For example, how critical are the workshops especially now that they are offered in hybrid settings?
Hardy: The workshops are critical, either online or in-person. But talking to people who are practitioners in the field also adds a layer of knowledge you can't acquire in books or study materials. It adds another dimension to your level of understanding.
RIMS: How has your professional profile been elevated by earning the RIMS-CRMP-FED? What were some unexpected benefits or perks?
Hardy: Coupled with the trainings and workshops I provide; it conveys that people are engaging with someone whose competency in the field has been verified. It also displays commitment. People want to work with those who have long-term commitment to a craft. That's commendable and having the certification draws people to you.
RIMS: What plans do you have to recertify?
Hardy: My goal is to always recertify, but moving forward I want to give back and create learning experiences so other credential holders can recertify. I developed a book writing program where they can earn CE credits towards recertification. Not only will they be published thought leaders, but also contribute to the industry literature—and that's important for a RIMS-CRMP holder.
Hear more from Dr. Karen Hardy on this recent episode of RIMScast.
You can apply for the RIMS-CRMP here.
Interview by Justin Smulison, RIMS Business Content Manager