RIMS-CRMP Stories
The Natural Next Step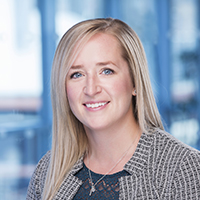 Saskatchewan RIMS (SKRIMS) Chapter President Katherine Dawal earned her RIMS-CRMP certification in September 2022. Now on the broker side of risk as the Vice President of Risk Management at NFP Canada, the RIMS 2020 Rising Star Award-winner reflects on the experience of taking her risk knowledge to the next level.
RIMS: What inspired you to earn the RIMS-CRMP?
Dawal: It was a natural next step. Following my post-secondary education, my risk management journey started with the Chartered Insurance Professional (CIP) designation through the Insurance Institute of Canada. Following my CIP, I received my Canadian Risk Management (CRM) designation through the Global Risk Management Institute.
At that point, I was nearly 15 years in the risk and insurance industry and ready to take on a new adventure—the RIMS-CRMP. I valued the education received throughout my CIP, CRM and work experience, but knowing the RIMS-CRMP is the only accredited risk management certification worldwide had a special feeling of pride and honor.
RIMS: You previously spent an important part of your career in commodities (uranium and potash). How did that experience help prepare you for the RIMS-CRMP exam?
Dawal: In previous organizations, part of my role was managing the enterprise risk management (ERM) program that required me to educate my organizations on the risk management process, then incorporate it into the organization's culture. To accomplish this, I utilized the tools learned in the CRM program to facilitate risk workshops, risk assessments, updating risk registers, developing risk champions and regular reporting to senior management on current and emerging risks. By practicing the tools I learned in the CRM, I enhanced my competencies in risk management.
RIMS: How does the knowledge from the RIMS-CRMP resonate with you now that you are on the broker side?
Dawal: Having a strong understanding of risk management and what a risk manager's role is within an organization has proven to be extremely valuable on the broker side. Not only am I speaking the same language as a risk manager, but I have educated my fellow broker colleagues in this space as well. All brokers should have a general understanding of risk management—not simply sales—as a value-add to risk managers. Brokers in the risk management space should consider taking the RIMS-CRMP in addition to their broker licenses as the latter tends to focus on insurance products and not ERM.
RIMS: Since passing, how has the RIMS-CRMP helped you in your career or elevated your professional profile?
Dawal: A few people reached out and asked about the new letters behind my name, and when I explained the RIMS-CRMP is the only accredited risk management certification the response I received was a "Wow!"
The RIMS-CRMP certification is relatively new and already has close to 1,000 certification holders worldwide, it is definitely a credential I hold with pride and honor.
RIMS: How did you study for the exam?
Dawal: I was fortunate enough to attend a virtual RIMS-CRMP Workshop organized by my local Saskatchewan RIMS Chapter. It was a two-day workshop with materials provided that I reviewed prior to taking the exam.
RIMS: What tips do you have for anyone studying for the exam now? For example, how critical are the workshops especially now that they are offered in hybrid settings?
Dawal: I always enjoy attending a workshop because you learn from others when they share their experiences. However, if someone has been practicing risk management for 10+ years, has the CRM and CIP designations, a workshop may not be an absolute requirement prior to writing the exam. But I would recommend reviewing the RIMS-CRMP Study Guide prior to writing the exam.
RIMS: What plans do you have to recertify? What are your favorite methods for accruing points?
Dawal: There are so many ways to earn points to recertify. I always attend the RISKWORLD and RIMS Canada Conferences and will be presenting at RISKWORLD in Atlanta. As the Saskatchewan RIMS Chapter President and Chair of our Programming Committee, SKRIMS hosts monthly lunch and learn webinars, which I attend and have presented in the past.
Hear more from Katherine Dawal on RIMScast.
Prepare for the RIMS-CRMP certification exam at RISKWORLD 2023! The in-person workshop will be April 29–30. Register today.
You can apply for the RIMS-CRMP here.
Interview by Justin Smulison, RIMS Business Content Manager