RIMS-CRMP Stories
Kirk Andersen: First RIMS-CRMP In Japan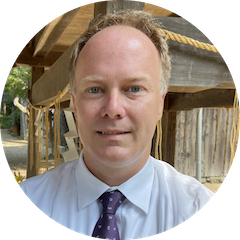 Kirk Andersen is the first risk professional based in Japan to earn the RIMS-CRMP. The global risk manager at Tsubakimoto Chain Co. discusses his inspiration to pursue the certification and how he believes it can positively impact professionals in the country.
RIMS: What brought you to Japan?
Andersen: I work for Tsubakimoto Chain Co. and I was brought into the Global Risk Management Section because of my familiarity with Japanese and global subsidiaries, experience helping organizations improve their J-SOX (also known as the Financial Instruments and Exchange Act) audit and risk management activities, and my native English skills. J-SOX is similar to the Sarbanes-Oxley Act in the U.S.—it is the set of Japanese standards for evaluation and auditing of internal controls over financial reporting.
RIMS: What inspired you to study for the RIMS-CRMP?
Andersen:Wishing to do the best job I could, I immediately set out to take courses and read books about risk management. I found the analytical nature of risk management, as well as its broad range of applications, intriguing, and came to realize that the RIMS-CRMP would help me bring better value to the company. I also knew that it would help me expand my personal and professional possibilities.
RIMS: How does the RIMS-CRMP enhance your professional profile?
Andersen: The RIMS-CRMP is an exceedingly rare certification in Japan—so rare, in fact, that I've been informed that I'm the only RIMS-CRMP holder in the country! Hopefully others will be inspired to take the exam.

I hope other Japanese companies and global companies operating in Japan will take notice of my accomplishments, but mostly I think it will enhance my professional profile because the RIMS-CRMP is ANSI accredited under the internal standards. JIS (Japan Industrial Standards) is the Japanese equivalent, and the Japanese place just as much trust in JIS as Americans do in ANSI. So, although the certification is still emerging in Japan, the RIMS-CRMP will be viewed as a valuable risk management certification that can be trusted.
RIMS: How does the RIMS-CRMP help you in your daily risk responsibilities?
Andersen: I think Tsubaki is currently at a novice level of risk management; the RIMS-CRMP has given me the knowledge to see where we can strengthen and improve our risk management system and thinking. I am already using what I've learned to develop educational material to raise the level of risk knowledge throughout the company. I also hope to apply this knowledge to improving our global risk assessments as well as our risk control matrices used for J-SOX audits.
RIMS: How did your experiential knowledge help you study?
Andersen: I came into risk management in a "sink or swim" scenario, learning on the job first before starting to study privately. So, I would say that the J-SOX audits and general internal control work provided a good grounding in how to analytically think about risk, which was reinforced and enhanced through my later studies.
RIMS: What were your study methods? Any favorite types of study materials?
Andersen: I took a course through RIMS on risk management framework and techniques. I also thoroughly read James Lam's Enterprise Risk Management, Paul Hopkin's Fundamentals of Risk Management, and any risk management white papers I could find on RIMS website or elsewhere online.
RIMS: Any tips for others preparing for the exam?
Andersen: I think the best advice I can give about preparing for the exam is to read as much as you can, and put yourself in a CEO's head: How would you like to see risk managed in your company in a way that brings more value into your operations?
RIMS: How was your employer supportive of your pursuing the certification?
Andersen: Tsubaki is a strong promoter of continuing education and was instrumental in furthering my risk management studies by subsidizing online RIMS courses and books. But I pursued the certification for my own personal growth. I hope to show them how the RIMS-CRMP and more Western-style risk management methods can help them better achieve their goals.
RIMS: Your background in Japanese and translation seems invaluable. How are these languages unique or beneficial when working in risk management?
Andersen: Language reflects culture. Fluency in Japanese gives me a particular insight into the core beliefs of Japanese society, which is generally very risk averse. Thus, the overwhelming mindset of many corporations here is to simply reduce or eliminate risk. English also hasn't permeated society here to the extent it has in other countries, so my Japanese skills give me the ability to not just say what needs to be said, but to say it in a way that will resonate with people. I want to bring a fresh, new global perspective to risk management here, and fluency in Japanese will certainly be invaluable for success.
Interview by Justin Smulison, RIMS Business Content Manager