RIMS-CRMP Stories
The Road to Success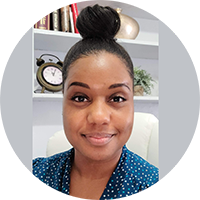 Merline Barrington is the Manager for Enterprise Risk Management at the Port Authority of New York & New Jersey, a 101-year-old agency which builds, operates, and maintains many critical transportation and trade infrastructure assets in the United States, through air, land, rail, and sea.
Barrington wanted to further demonstrate her ERM knowledge to the fullest and used the RIMS-CRMP certification to do it. She discussed her experience preparing for the exam and how the RIMS-CRMP certification has elevated her professional profile.
RIMS: What inspired you to study for the exam?
Barrington: I was inspired by colleagues and other practitioners who attained the RIMS-CRMP certification. I was also inspired by the ERM discipline itself and used my time during the pandemic to sink my teeth into notable books on ERM and learned a lot from experts in the field.
The breadth, depth, and opportunities for ERM are limitless in terms of what it can be and do for an organization. I learned so much about ERM both in theory and in practice over the years that I felt it was time to codify my expertise and qualify it with a respected industry credential.
RIMS: You lead the ERM group for a major transportation entity in the U.S. How did the RIMS-CRMP's criteria reflect/intersect with your high-profile role?
Barrington: The RIMS-CRMP challenges the practitioner to truly know their business. With regards to the transportation industry, it allowed me to confirm that I am covering all my bases, as well as formalizing how analyzing a business model should be done. It also helped me better shape my approach to teaching ERM to employees on my team, as well as mentees. Effective ERM can only occur within the context of an organization, company or otherwise entity it serves, therefore; having a thorough understanding of that context, its finances and the business model is necessary to successfully implement a risk process.
Additionally, and specific to my role, I work for an organization that facilitates various modes of transportation but also engages several other industries such as real estate, construction, government, etc. The suggested readings for the RIMS-CRMP and its domains provides a framework that is adaptable to many industries, which is particularly helpful.
RIMS: How does the Port Authority benefit from your having earned the RIMS-CRMP?
Barrington: The Port Authority benefits from my RIMS-CRMP certification by having the assurance that an experienced, proven ERM expert is at the helm of the agency's ERM function. I represent a body of expertise that has been confirmed by a leading industry standard, the absence of which would be identified as an audit finding, a liability, and a true gap for any organization.
RIMS: How did you study? For example, do you still like to open a textbook or are you more of an online learner?
Barrington: I prepared for the exam by carefully following the RIMS-CRMP Study Guide provided by RIMS and found examples of domain tasks in suggested readings and throughout the work that I have done as a practitioner. I am definitely a book worm, but also found some online resources helpful. I also sought advice from fellow practitioners who successfully passed the exam.
RIMS: What tips do you have for anyone studying for the exam now? For example, how critical are the workshops especially now that they are offered in hybrid settings?
Barrington: I would recommend a workshop if it were at all feasible for anyone looking to take the RIMS-CRMP. However, I would also like to encourage individuals who do not have the opportunity to take a workshop to know that they too have an absolutely fair chance at successfully passing the exam. It simply requires discipline to develop and stick to a study plan (RIMS provides a great outline) and the desire to learn.
Whether at the beginning of a career in ERM or on the seasoned side of the spectrum, there is always much to learn and explore as well as ways to further the discipline with innovative adoption/approaches to ERM. You can lead that type of innovation, built on the strong foundation of the RIMS-CRMP certification.
RIMS: How has your professional profile been elevated by earning the RIMS-CRMP?
Barrington: My professional profile has been most immediately raised because the RIMS-CRMP is a recognized certification. It has also positively impacted my performance reviews. Increasingly, risk management job postings will specifically mention the requirement to have such a certification.
RIMS: What were some unexpected benefits or perks?
Barrington: An unexpected perk was the increase in recruiters who reached out to me with opportunities via LinkedIn.
Another benefit is the connection to key ERM principles, such as root cause, communication, and risk strategy, that companies have begun to highlight in job postings for non-traditional ERM roles. This is no doubt a trend accelerated by the most consequential risk event of our time, during which the world spoke our language. One of the lasting, more positive implication is that ERM experts and practitioners have an even broader array of roles that need the very skills the RIMS-CRMP certification confirms.
RIMS: What plans do you have to recertify?
Barrington: I plan to recertify and have already begun to track recertification points. Attending the RIMS 2022 ERM conference in November was certainly a great way to earn some points while engaging in great conversations and sessions on ERM. I plan to also attend next year. I plan to meet the recertification criteria with several other continuing education options outlined on the RIMS website. The flexibility and variety of continuing education options is encouraging and certainly makes recertification easy to attain.
Hear more from Merline Barrington, live from the ERM Conference on RIMScast.
The next in-person RIMS-CRMP Exam Prep Workshop will be April 29–30 at RISKWORLD in Atlanta, Georgia. Register today!
You can apply for the RIMS-CRMP here.
Interview by Justin Smulison, RIMS Business Content Manager