RIMS-CRMP Stories
RIMS 2017 President Nowell Seaman: Take the Plunge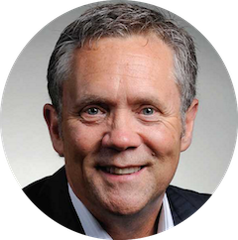 Past RIMS President Nowell Seaman, FCIP, CRM, RIMS-CRMP, remains incredibly active in the Society. A risk professional with more than 25 years of experience, his knowledge is expansive and it is certainly fitting that he is the instructor for the two-day RIMS-CRMP Exam Preparation Virtual Workshops from August 10–11 and August 25–26.

We want anyone considering taking or preparing for the course to be armed with as much knowledge as possible. Thankfully, Seaman was willing to lend his insight and provide some tips.
RIMS: Tell us about the exam. What does it cover and what is its format?
Seaman: The RIMS-CRMP exam tests the candidate's knowledge of the risk management discipline. It focuses on standard risk competencies that apply broadly, regardless of the person's specific job role or area of practice.
The exam questions are all multiple-choice format, best answer. That means there can be more than one plausible answer and candidates are asked to select the best response. Its content is categorized into five domains: Analyzing the Business Model; Designing Organizational Risk Strategies; Implementing the Risk Process; Developing Organizational Risk Competency; and Supporting Decision Making.
Approximately one-third of the exam focuses on implementing the risk process, and the balance of questions are distributed almost evenly among the other four domains.
The RIMS-CRMP web page includes an "Exam Content" tab that describes the content within each domain, and provides links to related reading resources for each area.
RIMS: Why is the RIMS-CRMP exam important for today's risk professional?
Seaman: RIMS-CRMP is a competency-based risk management credential that is applicable to all areas of risk management.
Rather than a diploma indicating completion of specific courses, which is clearly important, the RIMS-CRMP certifies that you have the combined knowledge of standard risk competencies, experience, and education to be a risk management professional. Maintaining the RIMS-CRMP also requires ongoing commitment to professional practice, including continuing education for recertification every two years and upholding the Code of Ethics.
In addition, the RIMS-CRMP is the only risk management credential in the world accredited to the ISO/IEC 17024:2012 standard for certification of personnel. As with other disciplines, employers find value in professional certification. I've begun to see postings specifying RIMS-CRMP as a desirable qualification and I believe that this trend will grow.
RIMS: How, if at all, do recent events influence the exam?
Seaman: The exam is based on a body of knowledge and standard competencies applicable to all types of risk, whether traditional, current, or emerging. In my experience, RIMS-CRMP Preparation Workshop participants represent a wide spectrum, including enterprise risk management, operational risk, insurance and risk financing, information technology systems and cyber risk, audit, quality control, and more.
The exam focuses on the process of risk management, rather than details of specific risks, and candidates from all areas and levels of risk management practice have successfully achieved certification.
RIMS: What study methods do you recommend?
Seaman: Study methods will vary by individual style and needs. While some people prefer to study on their own, others like to study with a partner or in a group. Some learn better by hearing or visual presentation, and others find it effective to read and highlight, write notes, or make flash cards for review.
The RIMS-CRMP Study Guide provides study advice and great information, including some sample exam questions and self-assessment checklists to help you determine and prioritize areas for additional study. I highly recommend it for all potential candidates,
If you find group study helpful, the two-day RIMS-CRMP Prep Workshop hosted by ORIMS will provide an in-depth review of content, discussion and small group exercises, and practice approach to exam questions. The RIMS-CRMP Overview Course is also offered online, and the website lists courses available at several universities. Although a prep course won't guarantee that you pass the exam, participants find the focused study time very helpful.
RIMS: What supplemental reading do you suggest?
Seaman: A list of recommended reading references for each domain/area of exam content is also available on the RIMS-CRMP's exam content page. Many candidates have studied some of these resources during their education and professional development, so a review might be all that is needed. If you need additional learning, don't forget that RIMS offers many other workshops, online courses, the Risk Knowledge content library, and other resources to help.
RIMS: How would someone know if they are ready to take the exam?
Seaman: If you've read the RIMS-CRMP Study Guide, and from self-assessment you feel you have a reasonably good knowledge of the content, I recommend that you take the plunge and apply for the exam. Once the application is approved, you will have six months to schedule and take the exam.
You'll be glad you did it, and proud to join the growing ranks of globally-recognized RIMS-CRMP risk professionals!
Interview by Justin Smulison, RIMS Business Content Manager