RIMS-CRMP Stories
Former RIMS President and Hartford Alum Rick Roberts Leads the Risk Management Charge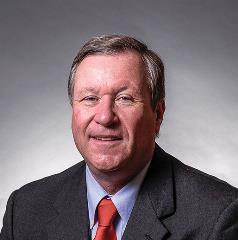 The ability for organizations to proactively address risks, assess situations, and make informed, strategic decisions can be the difference between crippling losses and revenue-generating success.
The events of 2020 highlighted the importance of risk management. And so in conjunction with RIMS, the University of Hartford will host the RIMS-CRMP + FED Prep Virtual Workshop, January 26–28, 2021. The RIMS-CRMP is the ANSI-accredited competency-based risk management certification, which validates your performance ability, technical knowledge, and commitment to quality.
Rick Roberts, former RIMS President and University of Hartford graduate, spoke with us about the risk management discipline, the skills and knowledge risk professionals need to succeed, and the importance of continuing education. A risk professional for more than 30 years, Roberts recalled helping to actualize the RIMS-CRMP during his presidency and his experience taking the exam. He also commented on the excitement of his alma mater helping advance RIMS and his profession.
RIMS: Rick, did you feel a personal obligation to be part of the first class to take the RIMS-CRMP?
Roberts: I really did want to sit for the first one and was able to do that in 2016. That's how important I thought it was, even while sitting on the board. Launching the RIMS-CRMP was an objective of the board for years even before I was president in 2015. It is now internationally recognized and that was the intent and goal when we were launching it. And that's why I wanted to really make sure that I had the certification—to differentiate myself from other people when advancing in my organization or if I had to look for a job.
RIMS: What were your impressions of the exam?
Roberts: The exam itself was like most standardized tests, but this one really required some experience in the field. I have always been comfortable with test-taking but, like everyone else, I too am afraid of failing an exam…and whatever stigma comes with it. But I stuck with it and thankfully I passed.
RIMS: What study tips can you share?
Roberts: It is a lot of material to study. And I would suggest trying to pick and choose the information that will help broaden your risk management knowledge. I think the exam does a great job at calling out experience and education. So, to best prepare, dwell on your experience while you're learning from all the readings that are provided.
RIMS: What is your philosophy on continuing education in risk management?
Roberts: You have to continue to educate yourself because the field of risk management changes weekly. Look at all the things that are going on right now. Who would have guessed about the severity of COVID? However, some organizations were semi-prepared. They had the technology. They had the diversity in their supply chains. Staying on top of key issues in the insurance industry, the risk management and actuarial fields are very important to the profession. But so is continuing knowledge, even around human resources, legal issues, operational issues—all of those come into play for risk professionals.

So broadening your education as best you can to meet the needs of your employer—and then any future employer—has always been very important to me.
RIMS: From January 26-28, 2021, a three-day RIMS-CRMP Virtual Prep Workshop will be held with the University of Hartford, your alma mater. How does it feel to see an important initiative of your presidency reflected in conjunction with the Barney School of Business?
Roberts: I earned my master's degree from the University of Hartford and my wife is also a graduate, so we're well connected to the school. And I'm thrilled that RIMS has decided to partner with the University of Hartford in this way. They've had a terrific risk management program for years.

It's great that people can innovate and find a way to offer these valuable classes. I never thought it would be to this degree and I'm really impressed. I'm a big fan of what the University of Hartford does and a big fan of RIMS, so the collaboration between the two should be outstanding.
You can also hear more from the interview on RIMScast.
Hear about Rick's professional and RIMS careers in the RIMS Risk Leaders Series.
Interview by Justin Smulison, RIMS Business Content Manager