RIMS-CRMP Stories
RIMS 2019 Vice President Steve Pottle on How the RIMS-CRMP Helps Risk Professionals 'Stay On Their Game'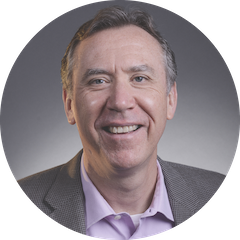 Steve Pottle, director of risk management at Thompson Rivers University and former RIMS Vice President, spoke with us about his experience achieving the RIMS-CRMP, which was also his first online-proctored exam. A risk professional for more than 20 years in higher education in Canada, Pottle discussed his study methods and the RIMS resources that helped him prepare. He also provided some unique insight as to why risk professionals in higher education stand to make exceptional gains by earning their certification.
RIMS: When did you earn your RIMS-CRMP?
Pottle: I feel strongly that the risk professional needs to demonstrate that they are "on par" with other certified professionals (accountants, auditors, safety professionals, etc.). In my opinion, having the RIMS-CRMP certification demonstrates that the risk professional has the technical competency, management skills, and ability to offer real value to their organization. The idea of a certification for our profession has been something I have supported since RIMS leadership first brought the idea forward in 2015.
RIMS: You already had a very strong profile with several certifications. How do you feel the RIMS-CRMP stands out from the others?
Pottle: It stands out because of what is behind the credential. Obtaining the certification isn't easy and frankly, it shouldn't be. Not every person in risk management is eligible to sit for the exam. It requires a minimum number of years of professional experience and a level of business acumen that comes from those years of experience. Maintaining the certification also requires your ongoing commitment to professional development. As risk management evolves, so should its practitioners and I value that commitment to stay sharp and "on your game."
RIMS: How have you applied the knowledge you acquired from the RIMS-CRMP to your daily work at Thompson Rivers University?
Pottle: There are five professional competencies or "domains" you focus on when studying for the RIMS-CRMP examination. There are learnings in all five which I have either applied or will apply going forward at TRU. For instance, there is a competency around Designing Organizational Risk Strategies which I found particularly insightful. I am reviewing our current ERM framework to find new ways to make the risk management process more relevant and rewarding for the university.
The knowledge I gained during my studies of this domain will really help advance my goals of solidifying ERM at TRU. Just those few "a-ha's" I have taken while preparing for the exam has made my RIMS-CRMP certification valuable.
RIMS: How do you feel the RIMS-CRMP can help other risk professionals who work in higher education?
Pottle: Unfortunately, I have seen that risk professionals in higher education can be overlooked, undervalued, and even let go when cost-cutting measures are put in place. That is a tough situation to be in. We know we add value to the academic missions of our respective institutions but sometimes it is difficult for those in senior administration to see that value. Being a certified risk professional helps to demonstrate to our administrative and academic partners that we know what we are talking about.
Additionally, we are needed and offer key insights that other certified professionals who support higher education simply do not. After all, aren't universities—by the very nature of their academic missions—places where risks are born?
RIMS: What was your experience like studying for the exam? What special methods or techniques work well for you that you are willing to share?
Pottle: It had been a while since I sat for an exam so I wanted access to every resource I could find to help me study, that included taking an online prep course offered through the RIMS Ontario chapter. I also went through the study guide offered through RIMS and from there found some additional material to help support my understanding of certain aspects of the five domains. I gave myself a month to prepare because I don't like to cram.
RIMS: How would you describe your experience taking the remote exam?
Pottle: That was a necessary "first." I wasn't able to travel to an in-person exam center in a bigger city like Vancouver due to provincial travel, so the only way I could sit for the exam was remotely. It was very convenient, but I encourage anyone considering this option to review the details posted on RIMS.org, as there are a few technical and logistical requirements unique to online-proctored exams.
Once you've worked these out, I would certainly recommend the remote exam option. After all, you can do it from the office or from your home without the worry of traveling. Just make sure it is the right option for you.
RIMS: When it comes to enhancing a professional profile and continuing education, what advice do you have for other risk professionals—regardless their level of experience?
Pottle: Never stop. I have been in risk management for more than 20 years, but I don't consider myself an expert by any means. If I can learn from someone, or if I can share my experiences with others, then I am the better for it.
Visit the RIMS Risk Leaders Series to hear a deep dive with Steve about his professional and RIMS careers, and his impromptu RIMScast appearance while live at the Next Gen Forum 2019.

Interview by Justin Smulison, RIMS Business Content Manager