RIMS-CRMP Stories
Yogesh Ghorpade of Thermax Reveals His Strict Study Regimen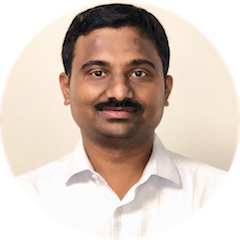 Yogesh Ghorpade is the group head of insurance and a member of the ERM group at Thermax, an engineering company that provides sustainable solutions in energy and environment. Even with a long and established career in risk and insurance, he wanted to enhance his professional profile. He earned the designation in October 2019 and spoke with RIMS about his RIMS-CRMP journey and his strict study regimen.
RIMS: Yogesh, tell us a bit about your risk management career.
Yogesh Ghorpade: I have been working in the insurance and risk management sector for more than 18 years, having handled various assignments such as underwriting, claims management, client servicing, and marketing, among others.
RIMS: What inspired you to take the RIMS-CRMP exam?
Ghorpade: The RIMS-CRMP course content spans through the entire enterprise risk management (ERM) life cycle and best practices. I liked that it was an online session covering all five modules—I took it at my own pace and it can be taken repeatedly.

RIMS membership provides me with an excellent and interactive platform to discuss and understand business critical risks, including ERM. Achieving the RIMS-CRMP credential gives an added recognition within the fraternity.
RIMS: What sort of encouragement did you have from Thermax at the time you studied and passed?
Ghorpade: When I discussed pursuing this certification, my current employer, Thermax Ltd, supported me and have shared part of the course fees.
RIMS: How has earning the RIMS-CRMP impacted your current role?
Ghorpade: After achieving this certification and additionally the PA-CRP, I got the opportunity to be more closely associated within the ERM framework and have been shouldered with additional responsibility of ERM implementation.

Having such a credential further helps in better networking opportunities. The curriculum ensures continuous professional development through the continuing education point system, which is mandatory.
RIMS: You studied pretty intensely. Tell us about your regimen.
Ghorpade: I studied for almost three months—two hours on average every day after office hours and around four hours on Saturdays. Past experience really helped in co-relating the standards quickly and faster grasping. I also studied through the ISO 31000 standards, the COSO framework, and the RIMS-CRMP overview course.
Hear more from Yogesh Ghorpade by watching the on-demand webinar Co-Existence with COVID-19: Path to Recovery & Resilience for India Inc., presented in June 2020 by the India Regional Advisory Group of RIMS.
Interview by Justin Smulison, RIMS Business Content Manager