On-Demand Video
Climate Change and Insurance: A Fireside Chat with Dev Bhutani and Deepak Madan - Sponsored by Prudent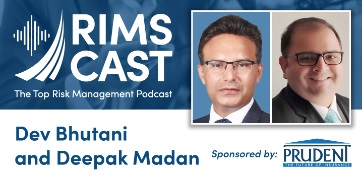 Event date :
Oct 22, 2021
According to the World Economic Forum's Global Risks Report 2021, the failure to mitigate and adapt to climate change is "the most impactful" risk facing communities worldwide—ahead of even weapons of mass destruction and water crises.
Interested in watching these On Demand Sessions?
In order to access this content, please log in to your RIMS account. If you do not have RIMS account, sign up for one today.
Login / Sign Up
Climate Change and Insurance: A Fireside Chat with Dev Bhutani and Deepak Madan - Sponsored by Prudent