On-Demand Video
Liability Claims: Plan Today for a better tomorrow - Sponsored by Prudent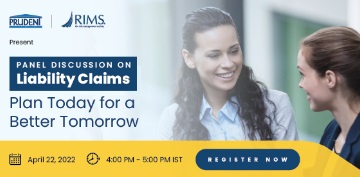 Event date :
Apr 22, 2022
It is pertinent that organizations become aware of their liability risks and avail appropriate insurances to transfer said risks. Watch our recorded panel discussion to explore the expectations of an insurer and the insured in the event of such claims and other surrounding aspects involved in smooth claims settlement.
Interested in watching these On Demand Sessions?
In order to access this content, please log in to your RIMS account. If you do not have RIMS account, sign up for one today.
Login / Sign Up
Liability Claims: Plan Today for a better tomorrow - Sponsored by Prudent