RIMS-CRMP Stories
Putting Lockdown To Good Use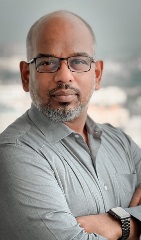 Neeraj Das is the Group Head of Insurance at Kalpataru Group, Leading EPC and Infrastructure company in India, with forays into real estate development and agro warehousing.

With nearly 20 years in the risk and insurance profession, he felt the calling to test his own risk knowledge by studying for and passing the RIMS-CRMP exam in February 2021. He discussed how he strategically used the time during a lockdown period and offered some test-taking tips for rising risk professionals and those based in South Asia.
RIMS: What inspired you to study for the exam, and which role were you in at the time?
Das: I have worked in the insurance industry for the last 19 years and had broad exposure to the risk management field. Whilst pursuing my Master's in Insurance and Risk Management from Bayes Business School in London, I was afforded the opportunity to learn the subject in greater depth.

However, I had not been able to pursue my hunger to learn as much as I'd have liked after that. I attended the first RIMS India conference in November 2019 and the RIMS CRMP program presentation surely caught my attention. The disruption during the Pandemic in 2020 piqued my interest in the field again and this made me study and prepare for the RIMS-CRMP exam during lockdown. It was surreal to read about the risk concepts and see them at play in real life all around. As Head Insurance of an engineering, procurement, and construction (EPC) company, I was facing them daily.
RIMS: You just hit on a key point about applying the skills and knowledge during your daily responsibilities. You led the risk groups for major brokers in India. How did the criteria reflect or intersect with those high-profile roles?
Das: Formerly as an insurance solution provider (underwriter and broker) and later as a Solution seeker (risk manager), I realized that Insurance is a subset of a broad risk management template. In order to perform the task of being the provider or seeker effectively, one needed to understand the broader picture of where the insurance, a risk transfer mechanism fits in. Organizations' risk philosophy was so critical to understand the solution that would work. The RIMS-CRMP program gives an in-depth understanding of principles, concepts, and mechanism to effectively navigate through the challenges brought about by various risks organizations face.
RIMS: How did you study? For example, do you still like to open a textbook or are you more of an online learner?
Das: I did refer to online resources, but during lockdown I had the luxury to resort to conventional methods of studying through traditional methods, like textbooks.
RIMS: What tips do you have for anyone studying for the exam now? For example, how critical are the workshops, especially since they are offered in hybrid settings?
Das: My number one tip for anyone preparing for the exam is that one should space out the study period so that one can read about various concepts, understand them and refer to case studies to grasp the concepts better. One can do justice to the course – not just the exam – when the concepts and principles are understood from a real-life point of view.

This will also spare the trouble of last-minute cramming, which is futile. Workshops would be an excellent platform to clear your doubts and discuss the relevance of concepts in real life scenarios.
RIMS: How does the knowledge from the RIMS-CRMP impact your daily work and decision-making?
Das: As head of insurance for an EPC with project exposures across the world, I deal with challenges arising out or project risks, supply chain risks, political risks and regulatory risks. To structure and manage an effective insurance program, one surely needs to understand the various risks and their impact. Knowledge from RIMS-CRMP study material and the abundant resources on RIMS portal helps me navigate through the challenges I face in projects across the world and also helps me stay updated with emerging and new solutions.
RIMS: What plans do you have to recertify?
Das: I am currently working on my continuing education points required for recertification and hope to complete the required 50 points soon. I look forward to maintaining my RIMS-CRMP active status into the future as it is an excellent way to showcase my commitment to be relevant in my field of work and the process ensures I am always learning and evolving.
RIMS: How do you feel that the RIMS-CRMP can help elevate the risk profession in India and South Asia?

Das: RIMS-CRMP is an excellent platform for serious risk professionals to learn share and evolve. It is especially relevant for young professionals who have just entered the field and seniors who need to keep up with latest developments in the profession. India and South Asia are late entrants to the risk management space but are fast catching up with the developed risk markets. RIMS has an excellent opportunity to be part of this accelerated journey by means of building awareness and offering programs and certifications.
It is important for all stakeholders to be part of the journey whether private enterprises, government bodies, academic institutions, trade associations and the like, to make more and more people risk aware. It is also imperative to build and develop local repository of knowledge to bridge the local Industries with the best in the world and this can be done with the partnership of RIMS.
Neeraj Das recently lent his perspectives on supply chain risk in a July 2022 RIMS webinar (view here).
You can apply for the RIMS-CRMP here.
Interview by Justin Smulison, RIMS Business Content Manager