RIMS-CRMP Stories
Career Acceleration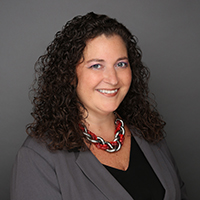 Broward County RIMS Chapter President Stacey Nielsen MBA, ARM, RIMS-CRMP is the Insurance Operations Supervisor at JM Family Enterprises, one of the leading automotive companies in the U.S. A longtime RIMS member, she was in the inaugural RIMS-CRMP class and has recertified three times. She discusses how the certification has helped accelerate her career.
RIMS: You earned the RIMS-CRMP in 2016 when it was first offered. What inspired you to pursue the RIMS-CRMP?
Nielsen: I've always been a big proponent of RIMS and of education and continuing education. So, when I saw that RIMS was offering a new certification, I knew I wanted to have the credential and that it would add value to my career. I especially appreciated that you have to accrue points and recertify every two years, because I'm a firm believer in keeping up to date on what is going on in the industry. Risk management can change daily, and you cannot be successful employing ideas and solutions that you used 10 years ago. That the RIMS-CRMP is the only risk management certification accredited by ANSI is icing on the cake.
RIMS: You have spent the last 10 years at JM Family and also worked in automotive in prior roles. How does that influence your risk perspective?
Nielsen: The automotive industry is always interesting and sometimes difficult. It is an important part of the American economy. The industry has given me a very well-rounded view of insurance and risk management, as you touch on nearly all aspects of the risk profession.
In the last 10 to 15 years, there have been several events that have challenged the auto industry. We can look to supply chain issues stemming from the 2011 tsunami that hit Japan, the container ship that blocked the Suez Canal in 2021 and of course COVID-19 shutdowns, to recalls of faulty ignition switches, and airbags, to the demand for electric and hybrid vehicles.
This all steers the direction of the automotive industry and I have to apply various processes and theories to help my company navigate these risks.
RIMS: How does the knowledge from the RIMS-CRMP resurface in your daily responsibilities?
Nielsen: The knowledge that I gained from the RIMS-CRMP helps me in so many ways, but one of the effects that I appreciated the most is just the confidence that it gave me; knowing that I have a versatile proficiency over a broad range of risk topics that can benefit myself, personally, as well as any company I work for.
It's rewarding to be part of an elite group who have spent the time and energy to better themselves – that makes me want to bring that same intensity to my daily responsibilities.
RIMS: Since passing, how has the RIMS-CRMP helped you in your career or elevated your professional profile?
Nielsen: Passing the exam has been a great conversation-starter! When I first got the certification, not many people were familiar with it. Even today, when it's well-known in the industry, it is something that people often bring up when they see it on my business card, email signature, or LinkedIn profile.
I believe it has also helped me to move up through the ranks of officers in the Broward RIMS Chapter and probably was a benefit when I joined the RIMS Nominating and Governance Committee last year. It does seem like people contact me for advice much more often, now, and has helped when I have been on panels at recent Florida RIMS Educational Conferences.
RIMS: How did you study for the exam?
Nielsen: When I took the exam seven years ago, it was the first time it had been administered, and it was given in a large room with paper and pencil. I would not recommend that route! RIMS had not yet started any of the amazing prep workshops that they currently have. They had given us a list of some topics that could be covered and suggested some books that might help, so I tried to study using those recommendations. It's fascinating to see how much it has grown since then, and how much support RIMS gives to those who want to sit for the exam.
Between remote and in-person exams at Pearson VUE testing centers, there are options for everyone and any style of study that you prefer – from online self-study, virtual instructor-led workshops, and study guides to exam blueprints.
RIMS: What are your favorite methods for accruing points (such as attending or planning conferences and leading webinars)?
Nielsen: As I am deeply involved in my local chapter and the Florida RIMS Conference, most of my points tend to come from chapter presentations and conference sessions. But I'm always excited when I earn points through a different channel. Denise Osorio, RIMS Vice President of Professional Development, does a great job of running the whole process. She occasionally reminds you along the way to get your recertification points, hosts live webinars to answer questions and explain the process, has created a Recertification Handbook, keeps a directory where you can look up your expiration date, and has posted a video on the Certification webpage of rims.org that you can review any time.
Prepare for the RIMS-CRMP certification exam at RISKWORLD 2023! The in-person workshop will be April 29–30. Register today.
You can apply for the RIMS-CRMP here.
Read more RIMS-CRMP Stories here.
Interview by Justin Smulison, RIMS Business Content Manager