RIMS-CRMP Stories
DeMarcus Strange: Now Speaking "The Client's Language" with the RIMS-CRMP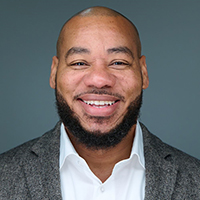 DeMarcus Strange, a risk controller at Insurica, earned his RIMS-CRMP certification in June 2023 to better understand the needs of his clients. He discusses how the RIMS-CRMP provides him with different perspectives and coincides with other certifications.
RIMS: What inspired you to take the RIMS-CRMP?
Strange: That is a two-fold answer for me. I wanted to establish myself as a professional in my field on an international level. Earning a certification that is respected globally sets you apart in your field and is something to be proud of. Also, working primarily in the insurance industry, I felt that it was important to meet my clients on their turf, so to speak. In most cases, I interact with risk managers during the insurance process. It is imperative that I speak their language wholly and the RIMS-CRMP provides me with that ability.
RIMS: You have spent a considerable time on the operations side of risk. How did those experiences and that particular field of practice lend itself as a knowledge base for taking the exam?
Strange: Having worked at an international organization prior to my current role, I was able to take advantage of educational development opportunities. I am a Board of Certified Safety Professionals (BCSP) and National Examination Board in Occupational Safety and Health (NEBOSH) certificate holder, so I was familiar with ISO and ANSI standards going into the test. The principles are very similar to what I learned in NEBOSH. This made earning the certification that much more satisfying. I truly felt that I was gaining knowledge and skills that not only aligned but complemented my professional education goals.
RIMS: Similarly, how does the knowledge from the RIMS-CRMP resurface in your daily responsibilities at INSURICA?
Strange: It is easy to fall into a transactional mindset in my specific industry. The knowledge I gained from the course cemented the fact that insurance is a part of risk, or a management tool. Therefore, I am more focused on partnering with stakeholders and understanding their entire business so that I can advise them on their risks and not just place a policy.
RIMS: How do you anticipate the RIMS-CRMP will help you in your career?
Strange: The certification has already elevated my professional profile! I was really surprised at the professionals in the risk community that have reached out to connect with me since earning my RIMS-CRMP.
RIMS: How did you study?
Strange: Initially I started reading whatever books I could find about risk management. Then I transitioned to the process outlined in the study guide information. I made sure to dedicate time to study for the exam so that I was prepared for the workshop session. My goal was to familiarize myself with the information prior to participating in the RIMS-CRMP exam prep workshop.
RIMS: What tips do you have for anyone studying for the exam now? For example, how critical are the workshops especially now that they are offered in hybrid settings?
Strange: I would recommend that those studying familiarize themselves with the ISO 31000 standard. The RIMS-CRMP Study Guide is crucial. Again, my goal was to review the information and focus on the disciplines that I was unfamiliar with. I can not highlight enough the benefit I gained from the workshop. The instructor was very informative and the tabletop sessions—where I put the skills to use—really brought everything to life for me.
RIMS: What plans do you have to recertify? What are your favorite methods for accruing points (i.e., attending/planning conferences, leading webinars, etc.)?
Strange: I will do a combination of several methods. I really enjoy conferences and the information that is provided through them. My RISKWORLD 2023 experience was amazing. I am an active participant in my local RIMS chapter, and I am an active presenter and participant of educational webinars.
Apply for the RIMS-CRMP certification.
View the upcoming exam prep workshops.
Interview by Justin Smulison, RIMS Business Content Manager