RIMS-CRMP Stories
Mark Middleton: Bringing Energy to Continuing Education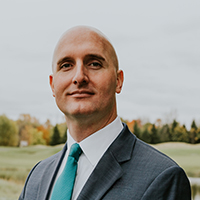 Mark Middleton has been a risk and insurance professional in Oklahoma for the past 20 years. Currently an internal auditor at Williams, a Fortune 500 investment grade corporation headquartered in Tulsa, he helps oversee operations across the natural gas value chain that spans the United States.

A RIMS-CRMP holder since 2019, Middleton discusses his enthusiasm for the profession and how the certification impacts his daily responsibilities.
RIMS: What inspired you to take the RIMS-CRMP?
Middleton: Throughout my professional career, I've learned that I really enjoy all things related to risk. I realized I needed to deepen my risk management knowledge and expand my qualifications, and this needed to be accomplished through a leading risk management organization. Naturally, that led me to RIMS and to this well-rounded accredited certification.
RIMS: You have spent a considerable time as an auditor. How did those experiences and that particular field of practice lend itself as a knowledge base for taking the exam?
Middleton: Internal auditing is about providing assurance and advice around governance, risk management, and control processes in all areas of the risk quadrant (hazard, operational, financial, and strategic). Having this kind of broad exposure provided a wonderful opportunity to learn and grow in the knowledge and experience that was needed to take the exam.
RIMS: Similarly, how does the knowledge from the RIMS-CRMP resurface in your daily responsibilities?
Middleton: The RIMS-CRMP focuses on enterprise risk management, a holistic approach to managing risks. Every day this knowledge is applicable in my work as I'm having to identify risks, analyze their impact and likelihood, and provide assurance or advice on their treatment.
RIMS: How has the RIMS-CRMP helped you in your career? For example, how has it elevated your professional profile? Do you find more people reach out to you for speaking engagements or career advice?
Middleton: Aside from gaining a greater understanding of risk management, another reason why I pursued the RIMS-CRMP was to further a goal of enhancing my profile to become more marketable as a risk professional which would open new and challenging job opportunities, work assignments, and projects. This certification has contributed to that goal by enriching my skill set in considerable ways.
RIMS: How did you study?
Middleton: I first consulted the RIMS-CRMP Examination Study Guide which provided excellent information and resources for my preparation. I read multiple textbooks, whitepapers, and frameworks the study guide recommended to make sure I was ready to pass the exam on my first sitting. The time and effort I spent was well worth the investment into my professional career.
RIMS: What tips do you have for anyone studying for the exam now? For example, how critical are the workshops, especially now that they are offered in hybrid settings?
Middleton: Read the RIMS-CRMP Examination Study Guide first and foremost. Next, determine what areas you need to focus your attention on and go from there. You may be someone who learns better through self-study, or someone who benefits from a prep course like the RIMS-CRMP Prep Workshop. Whichever way, take the necessary steps you need to be successful to pass the exam.
RIMS: What plans do you have to recertify? What are your favorite methods for accruing points (i.e., attending/speaking at conferences, leading webinars, etc.)?
Middleton: Since obtaining the certification, I have recertified multiple times and plan to continue well into the future. My favorite method for accruing points would be self-study courses because I like to take my time and reflect on the material I'm choosing to learn. Next, I like the webinars produced by RIMS, The Institutes, and The Institute of Internal Auditors because they all provide wonderful topics that are interesting and relevant to me. Finally, if time and funds allow, I may attend a conference once in a while just to mix things up.
RIMS: What additional words of wisdom do you have for others in the risk profession?
Middleton: Whatever phase of your career you're in, pursuing a certification is never a waste of time or money. Instead, pursuing and obtaining a certification, like the RIMS-CRMP, makes you a more competent professional and shows you have something of tremendous value to offer.
Apply for the RIMS-CRMP certification.
View the upcoming exam prep workshops.
Interview by Justin Smulison, RIMS Business Content Manager