RIMS-CRMP Stories
Patrice Corder: Positive Momentum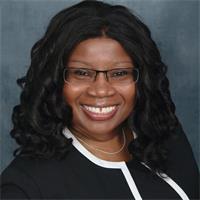 Patrice Corder has several certifications listed on her professional profile but will certainly attest that the RIMS-CRMP is a standout. A risk professional with 20 years of experience, she earned the certification in 2019, coinciding with an exciting new chapter in her career and ERM practice.
RIMS: What inspired you to earn the RIMS-CRMP?
Patrice S. Corder, RIMS-CRMP, CBRM, ARM-E, ARM: I am passionate about risk management and wanted to attain a credential that was both well-regarded and would offer the professional development resources that would assist me on my growth journey.
After all, having the credential without the resource support is only part of the picture. In addition, while I was pursuing the ARM designation via The Institutes, I learned of the ARM-E designation (which is a joint collaboration between The Institutes and RIMS). I researched RIMS and was impressed with the caliber of the organization, credential, and professional development resources. I knew then that I wanted to take the RIMS-CRMP exam. Attainment of the RIMS-CRMP demonstrated my commitment to the profession in being a well-rounded risk professional.
RIMS: How did your prior experience lend itself as a knowledge base for taking the exam?
Corder: When I embarked upon the RIMS-CRMP journey, I had 21 years of experience in risk management and compliance. My experience spanned several markets and areas, such as insurance, property and casualty, life & disability, employee benefits, medical (accident & sickness), alternative markets, legal, product development, regulatory compliance and enterprise risk management.
RIMS: You were a RIMS-CRMP holder prior to joining CapTech, a technology and management consulting firm. How do you feel the company recognized the value of the certification?
Corder: The company was impressed that I held the certification, however, they did not know about the RIMS-CRMP specifically. They were impressed that the credentials that I have reinforced my risk knowledge and experience. I was hired to help them establish an Enterprise Risk Management program, so risk identification, risk management, risk mitigation and being able to serve as a "Trusted Advisor" was (and is) very important to them.
Fifteen months into my role, I received a promotion and have been given full responsibility for Management of Enterprise Risk. I continue to perform all of my prior duties and am moving forward in a broader expansion and evolution of the ERM program to increase risk awareness and improve risk maturity. I am establishing a multiyear ERM Program Roadmap, policies, standards, charters and expanding education efforts within organizational risk management.
RIMS: How did the knowledge you gained from RIMS, our events and the RIMS-CRMP contribute to your achievement?
Corder: I review white papers, RIMS Weekend Read, RIMS Engage threads, and participate in webinars and workshops. The RIMS Risk Appetite Virtual Workshop was very beneficial in obtaining insight into the latest best practices used by organizations domestically and internationally. It was also enlightening (and helpful) to learn that our company was definitely not alone in the timing of ERM program implementation. This workshop is being used as a foundation for education and establishment of a Risk Appetite Management program and creation of Risk Appetite Statements. I was already advocating for documentation of formalized Risk Appetite Statements, but in my role as a "Trusted Advisor," I wanted to provide them with the most current and accurate information available and I immediately thought of RIMS as my primary source for guidance. I also chose to make the investment in time and resources to attend the 2022 ERM Conference and it was fantastic! I came back with such great information and was excited to share my learnings with company leadership.
RIMS: How did you study for the exam?
Corder: I mapped out my educational path based upon what I needed to know for the RIMS-CRMP exam and dove in to my studies. Once I was aware of what knowledge was needed, I reviewed the offerings from The Institutes: ARM and ARM-E (the latter being a joint collaboration between The Institutes and RIMS). I also selected some books that were recommended study preparation resources by RIMS, so I purchased a few of those. I took the ARM, then the ARM-E and reviewed the recommended books (everything built upon the other). Then a few weeks prior to sitting for the exam, I took the online RIMS-CRMP Overview Course.
RIMS: What tips do you have for anyone studying for the exam now?
Corder: My recommendations are:
Do not rush through this process. Plan for a few months to get through everything.
Stay committed to the goal.
Utilize the resources that RIMS makes available to prepare.
Do not cram…you need to remember what you have learned. The RIMS-CRMP credential is highly regarded, and your stakeholders will expect you to "show-up."
Having the credential and not being able to properly apply the knowledge does a disservice (not only to yourself) but to RIMS and could potentially diminish the value of the credential to others. After all, if you are unable to represent yourself well—especially with this credential—you are not maximizing stakeholder value.
RIMS: You recertified in 2023? What are your favorite methods for accruing points?
Corder: I love conferences because I can gain so much knowledge and engage with so many fellow risk professionals within a specific block of time. I enjoy participating in webinars. With my new responsibilities, there are many opportunities to accrue points through Standards Development and leading educational efforts at my company..
Apply for the RIMS-CRMP certification.
View the upcoming exam prep workshops.
Interview by Justin Smulison, RIMS Business Content Manager