RIMS-CRMP Stories
Roland Teo: RIMS-CRMP in Singapore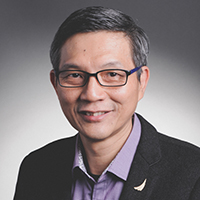 Roland Teo, Deputy Director, Office of Risk Management at Changi General Hospital in Singapore, earned his RIMS-CRMP certification in September 2021. He discusses how the RIMS-CRMP addresses ERM and how the certification is elevating his professional profile.
RIMS: What inspired you to take the RIMS-CRMP?
Teo: The RIMS-CRMP stands out by covering crucial aspects often overlooked in other ERM certifications and courses to ensure a robust ERM function. These include understanding business models, implementing risk strategies, applying risk governance, risk appetite, and risk tolerance, and building organizational ERM competency (training, coaching, and supporting decision-making).
Many RIMS-CRMP certification holders feel that there is a need for greater awareness, promotion, growth, and sustainability of the RIMS-CRMP certification. I think having a strong RIMS-CRMP alumni network and RIMS' presence in Singapore can support that. It also can engage government and professional bodies including key sectors to acknowledge the benefits of employing RIMS-CRMP certification holders.
RIMS: How was ERM addressed in the RIMS-CRMP?
Teo: The RIMS-CRMP components equip professionals with structured and comprehensive knowledge and skills in ERM. It covers key areas such as risk governance, ERM integration, emerging risks, risk identification and assessment, risk mitigation and treatment, risk monitoring and reporting.
The components provide a compelling and practical understanding of ERM for both risk management and non-risk management professionals.
RIMS: How do you feel that risk professionals in the greater Singapore area will benefit from earning the certification?
Teo: I think having risk professionals qualified as RIMS-CRMP certification holders in Singapore as a regional business hub can help ensure a robust ERM function for multi-national corporations, listed companies, government bodies and financial institutions including key sectors such as logistics, ICT, pharmaceutical and healthcare.
Also, I agree with my former students from RIMS-CRMP courses that the RIMS-CRMP provides certification holders with more confidence in carrying out tasks and supporting the recognition they need for their work. Singapore has the largest number of RIMS-CRMP certification holders outside of North America, which certainly helps the network of risk professionals here.
RIMS: How did your interesting career experience prepare you for the exam?
Teo: My years of experience in implementing ERM and other risk functions including teaching RIMS-CRMP courses are adequate. However, I attended preparatory workshops, read the recommended textbooks and studied for the experience.
RIMS: Since earning the RIMS-CRMP certification, how has it helped you in your career? How has it elevated your professional profile?
Teo: The recognition provides me greater confidence in my development of, delivery and speaking on ERM at work and risk courses for the executive ERM programs at two top universities in Singapore and professional bodies.
RIMS: What tips do you have for anyone studying for the exam now? For example, how critical are the workshops especially now that they are offered in hybrid settings?
Teo: There are many resources and excellent workshops to help candidates prepare for the exam. The best option would depend on the candidate's experience and background and study preferences. Nevertheless, it is good to be familiar with the RIMS-CRMP Certification Handbook and RIMS-CRMP Examination Study Guide. If possible, get in touch with someone who recently sat for the exam and a local community for support. The candidate may also wish to enquire about a local preparatory course or workshops which can fit the budget and schedule or even have it customized to their needs.
RIMS: What plans do you have to recertify? What are your favorite methods to remain current (i.e., attending/planning conferences, leading webinars, etc.)?
Teo: I have been very active in expanding my risk management technical knowledge and all related practices while enjoying the invaluable hands-on learning it provides. This would be sufficient to qualify me for recertification.
As a life-long learner, I have taken many risk and non-risk management courses. For many years, I have been a volunteer with RIMS in the regional advisory group for Singapore/Southeast Asia and the RIMS-CRMP Commission. Also, I volunteer with the Singapore Standards Council working group for ISO in risk management and business continuity management areas. In addition, I am an adjunct trainer for risk management at my workplace, local universities and professional bodies including speaking at local and regional seminars, webinars and conferences.
Apply for the RIMS-CRMP certification.
View the upcoming exam prep workshops.
Interview by Justin Smulison, RIMS Business Content Manager